Minnesota's Premiere Siding Contractors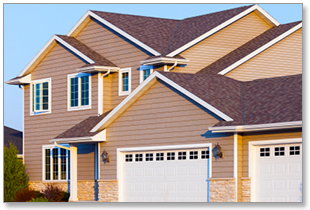 Nothing can improve and update the outward appearance of your home like siding. With the many types of materials and colors available with today, finding siding for your home and within your budget can be fun and exciting. Minnesota Roofing and Leafless Gutters has over 20 years of experience working with homeowners directly to choose what siding is best for them, and installing siding correctly with the same quality and craftsmanship we put into all our work. Take a look below at the siding options we offer and give us a call to speak with a professional siding contractor!
Vinyl Siding
Vinyl siding is the most common siding used on houses. Vinyl can come in many different thicknesses, offers a wide selection in style and colors and can even mimic wood grain. There are many manufacturers of vinyl siding and at Minnesota Roofing and Leafless Gutters we have a handful of trusted companies that stand up to Minnesota's harsh seasons.
Aluminum Siding
Aluminum siding is beneficial due to its durability, resistance to fire and ability to be recycled. Maintenance is very minimal with aluminum siding and it has the flexibility to be painted a specific color to match your styles and tastes.
Steel Siding
Steel siding is the most durable siding product on the market; offering a finish that protects against dents and scratches, tighter seams and a more rigid make-up that stays true to form without buckling or warping, with non-fade colors for lasting beauty.
Cedar and Wood Shake Siding
A quality wood exterior that is taken care of has a unique beauty that is hard to beat. At Minnesota Roofing and Leafless Gutters we take special care in making sure the cedar shake is properly finished, and educate you on maintenance. Cedar ages well in terms of looks and strength and with proper care can sustain itself for many years.
Your Twin Cities Siding Contractor!
No matter what your siding material you are interested in having installed on your home, we would love to help. Give Minnesota's premiere siding contractor a call at 612-221-0362 or fill out our contact form!